When the other kids on the Mesabi Iron Range in Northern Minnesota were out snowmobiling, hunting or fishing, Aaron Brown was in his room watching late night talk shows and listening to the radio. It was strange behavior then, and it's led to even stranger.
Aaron Brown writes, produces and hosts the Great Northern Radio Show. Every program is a big, big show from a small town or overlooked place, and it's created for just one person: you, when you need it most. Through music, comedy and storytelling the Great Northern Radio Show welcomes listeners into a community. It combines sharp, witty writing with a warm, wide-eyed belief that things are going to be OK.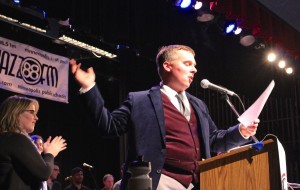 Aaron Brown was raised on a family-owned salvage yard in the Sax-Zim bog just down the highway from Eveleth Taconite during the region's economic depression of the 1980s. On better days, ore trains rumbled through the swamp behind the house three times a day while young AB developed his love of radio and broadcasting from the amplified antennae his dad installed on the trailer roof. Life on the junkyard might not have been perfect but everything seemed great on the Tonight Show with Johnny Carson. Through laughter, the comedy of George Carlin, Bob Newhart, David Letterman, Conan O'Brien, along with the writing of regional columnists like Chicago's Mike Royko and Miami's Dave Barry and Carl Hiassen, Brown developed his interest in comedic essays, variety shows and the way that people and places shape each other.
Working his way through high school and college as a radio disk jockey and news reporter, Brown would become editor of the Hibbing Daily Tribune at age 21. Later he'd become a community college speech instructor and author of the award-winning book "Overburden: Modern Life on the Iron Range." In 2011, Brown began developing the radio show he'd dreamed of since he was a kid back on the junkyard. The first Great Northern Radio Show aired Oct. 15, 2011 at Hibbing Community College and Brown and his talented cast and crew have been touring Northern Minnesota and beyond ever since.
Brown and his wife Christina, a frequent contributor behind the scenes, live in rural Itasca County with their three sons Henry, Douglas and George. He teaches at Hibbing Community College and writes the popular Northern Minnesota blog MinnesotaBrown.com.