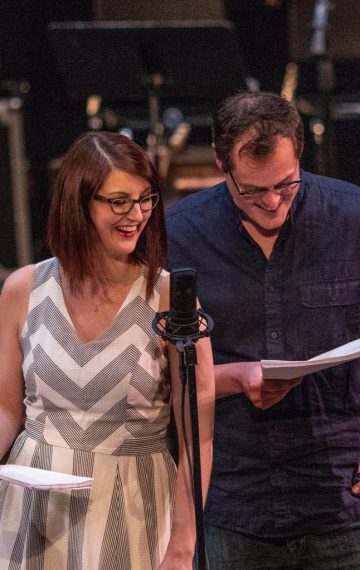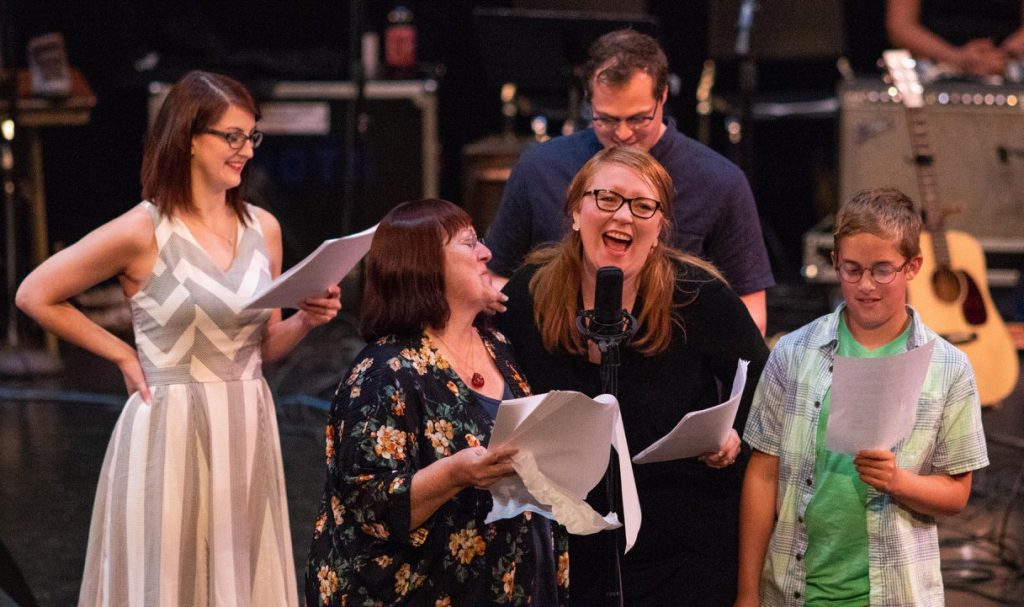 The Great Northern Radio Show broadcasts from the Reif Center in Grand Rapids for its annual summer show. In the first hour of a June 23, 2018 double feature, the show celebrated the special feeling of Summer Nights.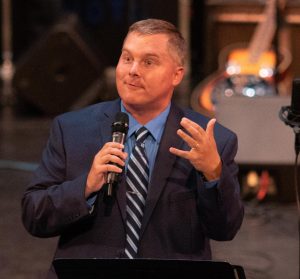 Host Aaron Brown swatted at some of the most annoying characters in summer nights: mosquitos. He breaks the drama of slapping bugs into its classical parts.
The Great Northern Radio Players go into the dark summer night to compare the dietary needs of human campers and the bears who try to eat them. They tell us the secret ingredient to beat potluck anxiety disorder. And we enjoy scenes next to the most classic ambiance of any Northern Minnesota summer night: the bonfire.
We also learn the true story about a particular night 73 years ago, when a WWII B-29 bomber flying over the state sprung a fuel leak in the cabin. The entire crew had to bail out over a dark, very rural stretch of Itasca County. Mike Melin and Kevin Helblad share the story of these brave and very lucky men, and the mystery of the ghost plane that disappeared into the summer night.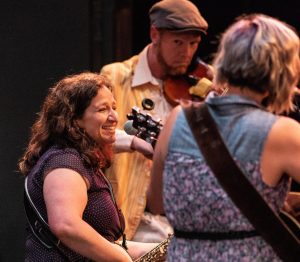 Musical guests included the Holy Hootenanners, a massive gospel folk band out of Mahtowa, Minnesota, with a big, fun sound. The show also welcomed the Don't Tell Darlings, a harmonizing Americana act that started in the state of Virginia, but found its way to Minnesota for this show.
This program features the music of the Great Northern Radio Show's all star house band Katie and the Nostalgics, led by Katie Houg on piano and vocals and featuring Aaron Schnackenberg on bass, Doug Quance on drums, and Eric Carlson on guitar and vocals.
The Great Northern Radio Players for this show include Rachel Brandt, Doug Brown, Lydia Mariano, Jason and Louisa Scorich, C.J. Anderson and Lauren Nickisch on foley sound effects.
This episode was written and produced by Aaron Brown. Production by Sarah Bignall with assistance from Tammy Bobrowsky. Jennifer Poenix served as stage manager. Audio engineering by Dan Houg and Chad Haatvedt with help from John Miller at the Reif Center.
This June 23, 2018 program aired live on 91.7 FM KAXE Grand Rapids, Aitkin and the Iron Range, 90.5 KBXE Bagley and Bemidji, 89.9 Brainerd and 103.9 in Ely. The show is also rebroadcast on independent public radio stations throughout Minnesota and distributed as a live stream and podcast.