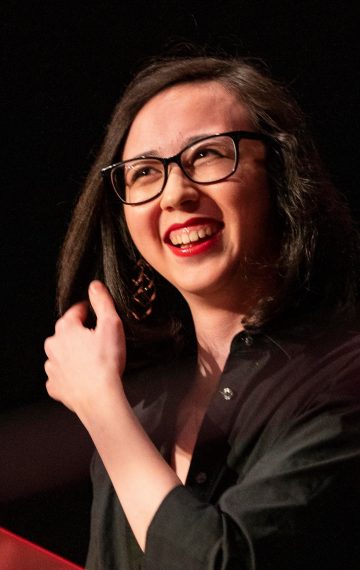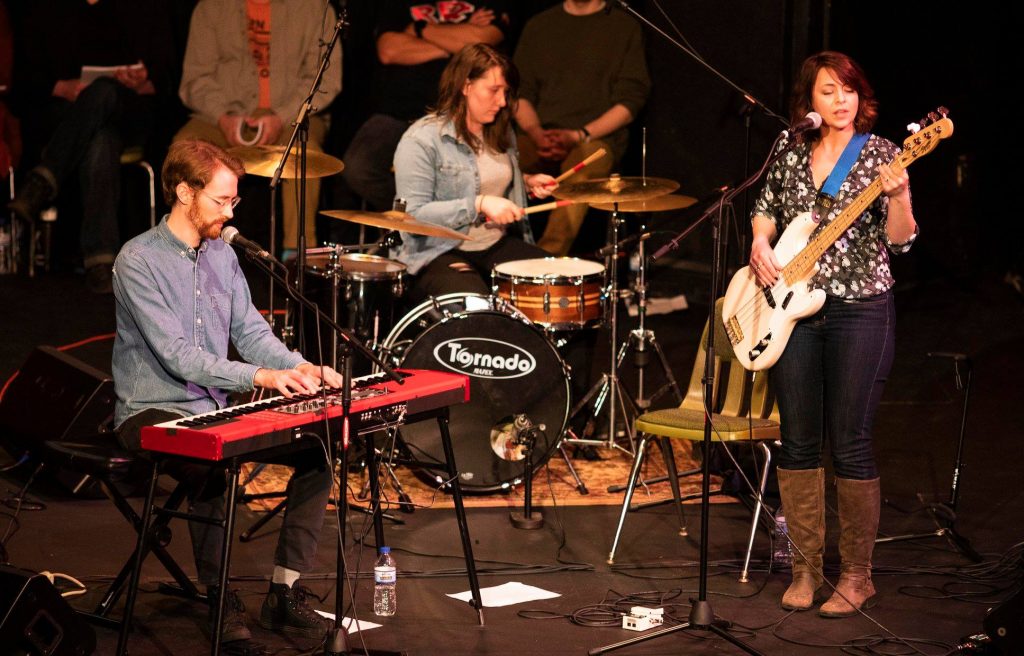 The Great Northern Radio Show returns to the Chief Theater in downtown Bemidji, Minnesota, in this April 13, 2019 live broadcast. Spring was in the air, even though we slogged through a snowstorm to get here.
Our featured musical act was Duluth's The Latelys, a hot band with the unique combination of bass, drums and keyboard. (No guitar needed!). Bemidji's own singer/songwriter Caige Jambor shared soulful tunes from his new self-titled album. World traveler and Park Rapids-area resident Téa Renee shared her delightful original music as well.
Rob Fairbanks, the Rez Reporter, returned to the program offering his stand-up comedy stylings and hilarious character-based humor. MacKenzie Lindahl from Harmony Food Co-op educated Aaron on quality cheese. And Rhea Holleman, the Bemidji Area Boys and Girls Club "youth of the year" explained the program to our audience.
The Great Northern Radio Players took us through several scenes, including a comparison of the world's great rivers, a Scottish professor describing plaid to a radio audience, a behind-the-scenes look at paint colors, and God's decision about whether animals should be predators, prey or pets. We also join the governor's fishing opener, where rival politicians argue over who should touch the worms. Broadcasting from the home of Paul Bunyan's plaid shirt, we wondered how to describe plaid to someone who's never seen it before. So, we hired a Scottish professor to do just that.
Host Aaron Brown lamented the excessive moisture of the season, compared social media to venereal disease, and admitted the shameful truth that his vehicle doesn't have a tow hitch, even though he is a man … supposedly.
This program features the music of the Great Northern Radio Show's all star house band the Occassionals, led by Katie Houg on piano and vocals and featuring Eric Carlson on guitar and vocals, Aaron Schnackenberg on bass, and Doug Quance on drums. We enjoyed a special treat as 11-year old mandolin phenom Sawyer Corcoran performed with the band, along with his mother and fellow musician Leah Corcoran.
The Great Northern Radio Players for this show include Brett Carter, Jason Scorich, Louisa Scorich, C.J. Anderson, Lauren Nickisch, and, making her radio stage debut: Téa Renee.
This episode was written and produced by Aaron Brown. Production by Sarah Bignall with assistance from Tammy Bobrowsky. Sarah Bignall served as stage manager. Audio engineering by Dan Houg and Dave Kne.
This April 13, 2019 program aired live on 91.7 FM KAXE Grand Rapids, Aitkin and the Iron Range, 90.5 KBXE Bagley and Bemidji, 89.9 Brainerd and 103.9 in Ely. The show is also rebroadcast on independent public radio stations throughout Minnesota and distributed as a live stream and podcast.
The Great Northern Radio Show is made possible by the Minnesota Arts and Cultural Heritage Fund. All photos by Grant Frashier for the Great Northern Radio Show.