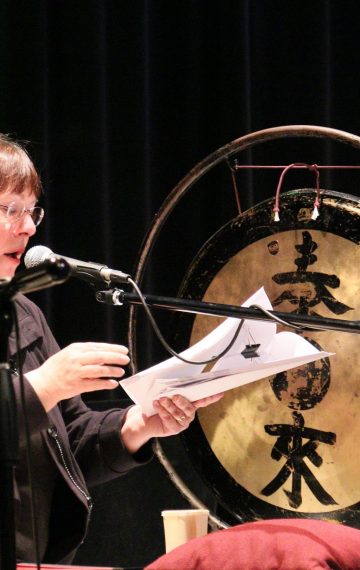 Lauren Nickisch - Foley artist
Great Northern Radio Show – Pequot Lakes
April 9, 2016
Books and Bypass, Death and Taxes in Pequot Lakes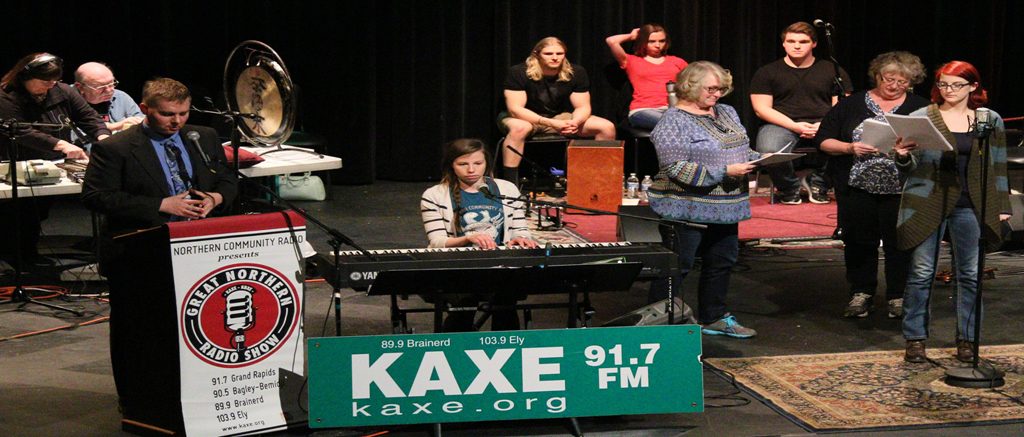 Springtime in Pequot Lakes
Pequot Lakes is a little tourist town along Highway 371 north of Brainerd in central Minnesota. When we visited, Pequot Lakes was in the midst of a major highway project that would send traffic along the edge of town rather than right through it. Folks were charged up, so we brought the full show treatment.
On Saturday, April 9, 2016 the Great Northern Radio Show broadcast a live program from the Pequot Lakes High School auditorium.
The show featured rising Minnesota music star Reina del Cid and her band, the Brainerd-area band Last Call, and the broadcast debut of young brothers Jacob and Owen Mahon of Hog Rooster. Katie Houg played house piano.
The Great Northern Radio Players for this show included C.J. Anderson, Louisa Scorich, Nancy Waller and Dave Vieths, and Lauren Nickisch on foley sound.
Our adventures for this program included a peek inside the bizarre world of highway bypass planners, an introduction to a squad of elite librarians: Librarian Team Six, some free tax advice worth every penny, and a climb up Pequot Lakes' tallest structure — the TDS communication tower — to change a light bulb.
Special guests included former mayor and Pequot Lakes Community Library founder Nancy Adams, reigning Bean Hole Days King and Queen Don and Barb Merritt, and Brainerd poet Doris Stengel.
All that and new audio essays about Modern Life in Northern Minnesota by producer, writer and host Aaron Brown, including an impassioned declaration that there are some things a highway can't bypass.
The April 9, 2016 program aired live on 91.7 FM KAXE Grand Rapids, Aitkin and the Iron Range, 90.5 KBXE Bagley and Bemidji, 89.9 Brainerd and 103.9 in Ely. The show was also rebroadcast on independent public radio stations throughout Minnesota and distributed as a live stream and podcast.
The Great Northern Radio Show is made possible by the Minnesota Arts and Cultural Heritage Fund with support from the Iron Range Resources and Rehabilitation Culture and Tourism grant program and the Blandin Foundation.