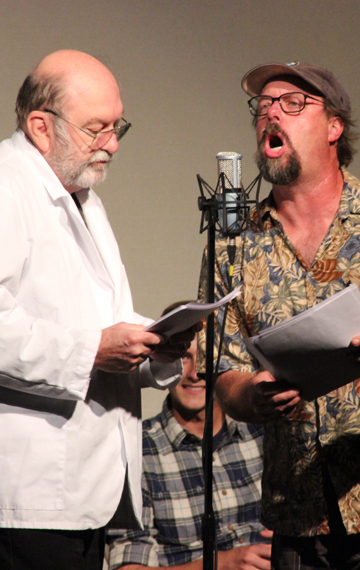 Great Northern Radio Show – Park Rapids
September 27, 2014
Broadcast from the Armory Square in Park Rapids
On Saturday, Sept. 27, 2014, the Great Northern Radio Show traveled to Park Rapids, Minnesota, to perform a show from the newly remodeled Armory Square. How newly remodeled? The place was still covered in sawdust and extension cords. One bathroom didn't have a door and the other was shared with the Mexican restaurant downstairs. Come to think of it, Armory Square wasn't done yet. But it was an awesome stage in a big, glorious building in the heart of a ferociously artistic small town in north central Minnesota.
The show featured the Minneapolis indy folk group Tree Party, a high energy act with just the right amount of yodeling. The Sterling Roots also performed their three-part harmonic wonders on the audience. Both groups included people with ties to the Park Rapids area.
Our adventures this show included a Congressional race between two deeply unpleasant people, a potato-related scheme to nab Al Capone, and a whitetail deer's visit to the dentist.Also featuring a grasshopper newscast.
The Great Northern Radio Players for this show were Britt Aamodt, C.J. Anderson, Sara Breeze, Brandon Chase, and foley artist Lauren Nickisch.
Special guests included Park Rapids artist and downtown businessman Bernie Cunningham, Itasca State Park advocate and author Deane Johnson, local restauranteur Molly Luther and local author Jerry Mevissen.
All that and new audio essays about Modern Life in Northern Minnesota by producer, writer and host Aaron Brown, including his plight as a Northern Minnesota man who does not hunt.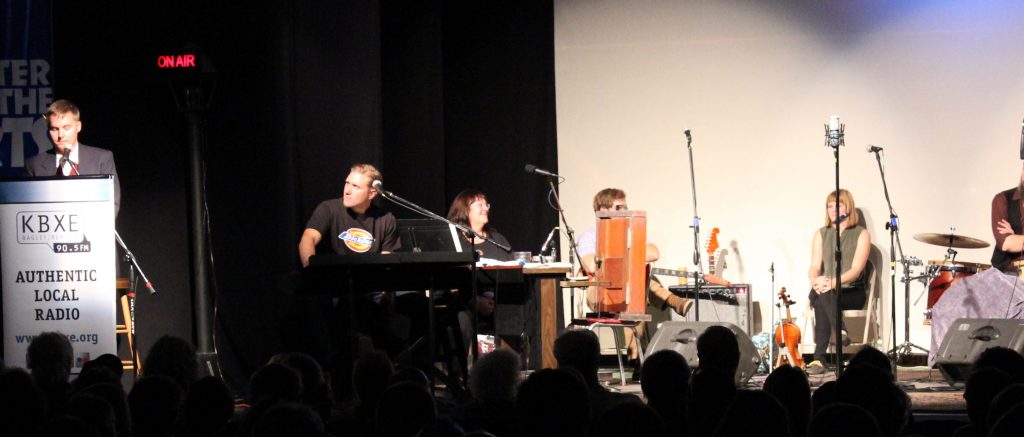 This Sept. 27, 2014 program aired live on 91.7 FM KAXE Grand Rapids, Aitkin and the Iron Range, 90.5 KBXE Bagley and Bemidji, 89.9 Brainerd and 103.9 in Park Rapids. The show was also rebroadcast on independent public radio stations throughout Minnesota and distributed as a live stream and podcast.
The Great Northern Radio Show is made possible by the Minnesota Arts and Cultural Heritage Fund with support from the Iron Range Resources and Rehabilitation Culture and Tourism grant program and the Blandin Foundation.