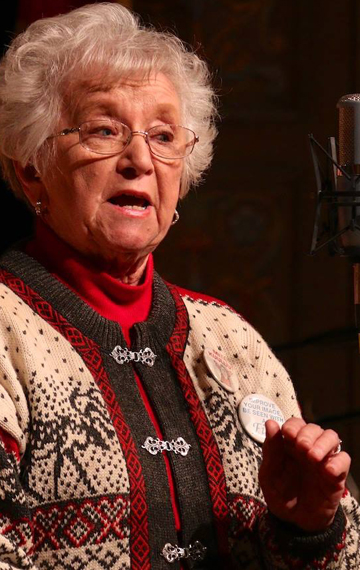 Great Northern Radio Show – Aurora
February 6, 2016
Broadcast from the Mesabi East auditorium, Aurora,MN
The Laskianen Show
Laskiainen is an old Finnish-American tradition, a celebration of the transition between deepest winter and the time when days grow longer and brighter. For generations, people have used the time to bake breads, weave fabrics, and slide down hills for fun and to predict the prosperity of the coming flax harvest.
On Saturday, Feb. 6, 2016 the Great Northern Radio Show broadcast a live program from the Mesabi East auditorium in Aurora, Minnesota, in honor of the Laskiainen Finnish Sliding Festival going on in nearby Palo, Minnesota.
Musical performers for the show included Minneapolis based cosmic folk band "i like you," local accordion phenomenon Steven Tedmen, and the mandolin-guitar duo of Pete and Jack Pellinen. Katie Houg makes her Great Northern Radio Show debut on house piano.
The Great Northern Radio Players for this program included C.J. Anderson, Rachel Brandt, Kathryn Gritzmacher, Matt Nelson, Pete Pellinen, Jack Pellinen, and Jason Scorich, with Lauren Nickisch on foley sound.
Our adventures included several reports from the Laskiainen festival by Toby Ogden, including the perils facing one pig about to be turned into split pea and ham soup. We also steamed up a sauna on stage, exploring the unique Finnish tradition of the steam bath as we learn how sauna affects world events and new friendships alike.
Special guests included Laskiainen organizer and local historian Gerry Kangas, 2016 Laskiainen Queen Emily Baudek, and her 1996 counterpart Rachel Williams offering some sage advice from her Laskiainen days. Mesabi East grad Amy Detmer was also on hand to talk about cross country skiing.
All this and new audio essays about modern life in Northern Minnesota by host Aaron Brown, including a talk about Sisu, and the internal conflict facing a Minnesota Finn who does not care to be naked in the company of others.
This Feb. 6, 2016 program aired live on 91.7 FM KAXE Grand Rapids, Aitkin and the Iron Range, 90.5 KBXE Bagley and Bemidji, 89.9 Brainerd and 103.9 in Ely. The show was also rebroadcast on independent public radio stations throughout Minnesota and distributed as a live stream and podcast.
The Great Northern Radio Show is made possible by the Minnesota Arts and Cultural Heritage Fund with support from the Iron Range Resources and Rehabilitation Culture and Tourism grant program and the Blandin Foundation.