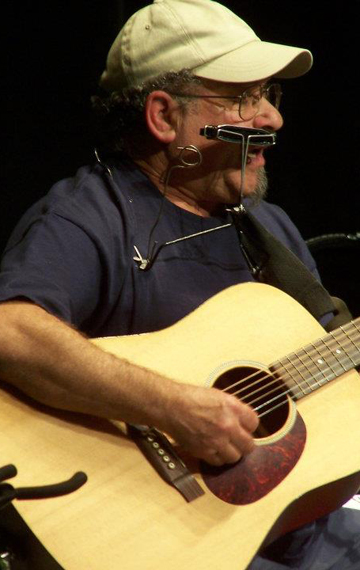 Great Northern Radio Show – Hibbing
October 15, 2011
Broadcast from Hibbing Community College.
Hard Times, Good Times in Hibbing premiere 
On Oct. 15, 2011, the Great Northern Radio Show broadcast its pilot episode live from the theater stage of Hibbing Community College, where show creator, host, writer and producer Aaron Brown is, by day, a mild-mannered instructor of public speaking. At the time no one involved knew what might happen. To the surprise of many, we broadcast two hours of live programming with no disasters, and while we were still working out a few bugs, the show holds up pretty well. 
The featured musical guests were the jug band stylings of Da' Elliot Bros., Finnish folksters Pete and Jack Pellinen on mandolin and guitar, Hibbing student Iris Kolodji and her guitarist Mitchell Zubich and a performance by the Hibbing Community College choir directed by Dorothy Sandnas. Nickolai Koivunen, at the time an unemployed carpenter who lived in Zim, wowed the audience with his unique improvisations and musical stylings, which would lead to him being our house piano player. 
The Great Northern Radio Players for this show included Josh Anderson, Pete Pellinen, Marty and Michelle Rice and Scott Hanson on foley sound. The show was written by Aaron Brown and Matt Nelson with additional material by Pete Kero and Ed Nelson. 
Our adventures included a journey down to the Soudan Underground Mine to rescue the victim of a sarma monster attack. We learned that a mine staffed by giant transformer robots would still require the human touch. You wouldn't expect a rap about the three-way watershed near Hibbing, but we went and did one. Meanwhile Ole and Nels entertained the crowd with lumberjack conversations.  
All that and new audio essays about Modern Life in Northern Minnesota by producer, writer and host Aaron Brown, including a review of sordid, unusual tales of the early days of "The Town that Moved." 
This Oct. 15, 2011 program aired live on 91.7 FM KAXE Northern Community Radio. The show was also rebroadcast on independent public radio stations throughout Minnesota and distributed as a live stream and podcast at www.kaxe.org. 
The Great Northern Radio Show is made possible by the Minnesota Arts and Cultural Heritage Fund with support from the Iron Range Resources and Rehabilitation Culture and Tourism grant program and the Blandin Foundation.