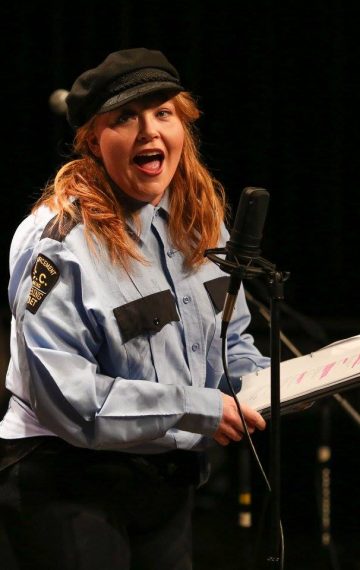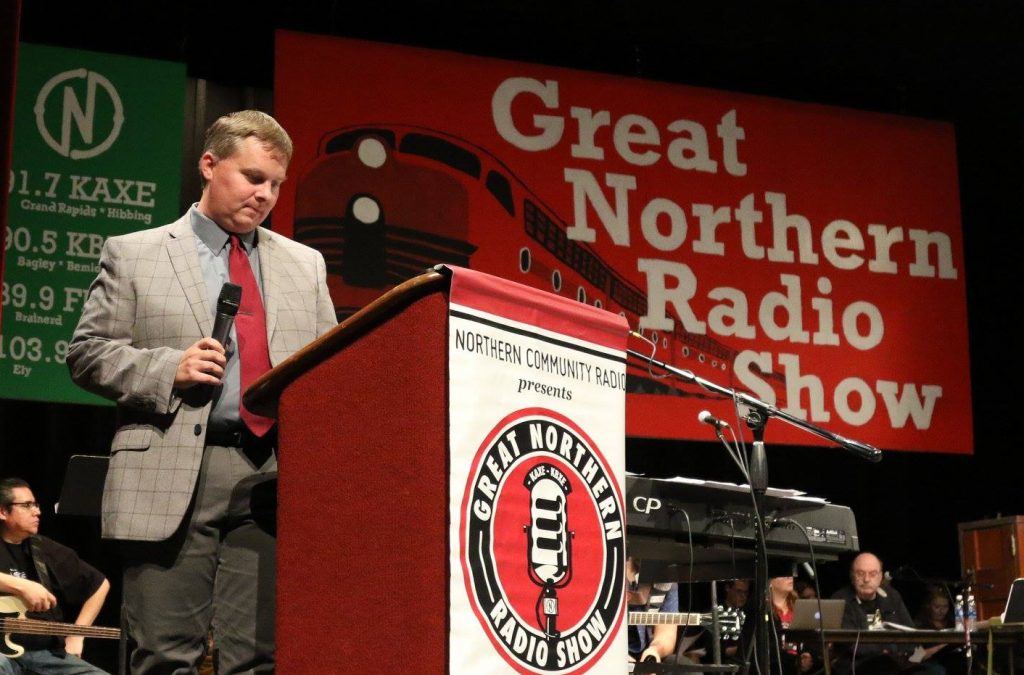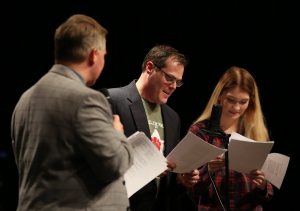 The Great Northern Radio Show broadcasts from Hibbing Community College in a triumphant return to the same stage where the show premiered six years earlier. The first part of an Oct. 14, 2017 live broadcast, this broadcast takes listeners on a roundabout tour of a town still struggling with its new roundabout.
Host Aaron Brown gives the rather depressing fall foliage report before delving into another seasonal analysis, namely road construction. The audience jeers the new Highway 169 roundabout while AB reminisces about his connection to Hibbing and the start of the Great Northern Radio Show.
The History Channel suggests that this Mesabi Iron Range's town's unique history can be attributed to "Ancient Aliens," a claim we counter with actual knowledge from Minnesota Discover Center curator Allyse Freeman.
A sketchy developer convinces the gang that the entire college needs to be moved to access a rare mineral called "Hyperbulum" underneath the campus. With a little help from HCC Student Senate President Cassidy Thompson we load the college onto trailers, but there's a little trouble in the roundabout. Fortunately Andrew Hanegmon from the Iron Range Maker Space introduces us to an inventor who saves the day.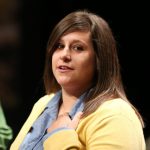 We meet Donna Johnson of the Borealis Art Guild and learn about the Iron Range young professionals group ReGen from Allyse Freeman.
This program features the music of Hobo Revival, a fantastic local original rock band, and the Great Northern Radio Show's all star house band Katie and the Hupmobiles, led by Katie Houg on piano and vocals and featuring D.C. on bass, Doug Quance on drums, and national touring artist Corey Medina on guitar and vocals.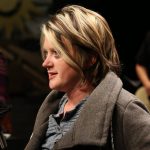 The Great Northern Radio Players for this show include Rachel Brandt, Brett Carter, Jason and Louisa Scorich, and C.J. Anderson on foley sound effects.
This episode was written and produced by Aaron Brown with additional material by Jason Scorich. Production by Sarah Bignall with assistance by Heidi Holtan and Tammy Bobrowsky. Engineering by Dan Houg and Chad Haatvedt.
This Oct. 14, 2017 program aired live on 91.7 FM KAXE Grand Rapids, Aitkin and the Iron Range, 90.5 KBXE Bagley and Bemidji, 89.9 Brainerd and 103.9 in Ely. The show is also rebroadcast on independent public radio stations throughout Minnesota and distributed as a live stream and podcast.