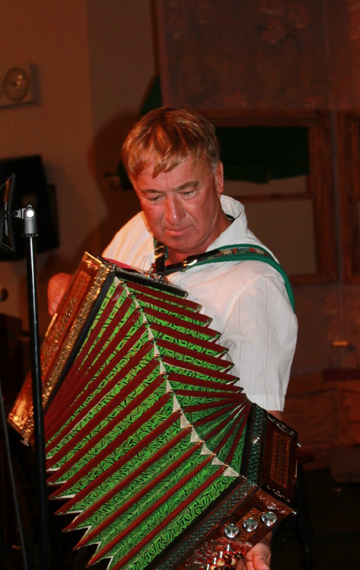 Great Northern Radio Show – Ely
October 20, 2013
Broadcast from the Eveleth-Gilbert High School, Eveleth,MN.
Eveleth: Home on the Range
On Oct. 20, 2012, the Great Northern Radio Show returned to its Iron Range roots with a live broadcast at the Eveleth-Gilbert High School auditorium in Eveleth, Minnesota.  
The show featured musical guests Matt Ray and Those Damn Horses, the Sam Miltich Trio, accordionist Paul Paulisich, folk storyteller and musician Casey Aro, and singer/songwriters Iris Kolodji and Paul Seeba. Nickolai Koivunen played house keyboards. 
The Great Northern Radio Players for this show included Kathryn Gritzmacher, Louisa Guiggisberg, C.J. Anderson and Scott Hanson on foley sound. The show was written by Aaron Brown and Matt Nelson. 
Our adventures took us to one of the first organic food markets on the Iron Range where "Free Range Chicken" is a phrase easily misunderstood. We challenge Victorian social norms in an Iron Range parody of Jane Eyre. A madcap adventure involving communists, spies and the bookmobile brings the show to its exciting climax. 
Guests on this show included Bill Lah and his monologue about the meaning of Iron Range history, Lauren Nickisch performing from her one woman show about her pioneering ancestors, the Merritt family, who first opened the Mesabi Iron Range, and Steve Downing with a humorous look at the Range. 
All that and new audio essays about Modern Life in Northern Minnesota by producer, writer and host Aaron Brown, including stories from his time delivering pizzas in Eveleth and Gilbert.
This Oct. 20, 2012 program aired live on 91.7 FM KAXE Grand Rapids, Aitkin and the Iron Range, 90.5 KBXE Bagley and Bemidji, and 89.9 Brainerd. The show was also rebroadcast on independent public radio stations throughout Minnesota and distributed as a live stream and podcast.
 The Great Northern Radio Show is made possible by the Minnesota Arts and Cultural Heritage Fund with support from the Iron Range Resources and Rehabilitation Culture and Tourism grant program and the Blandin Foundation.