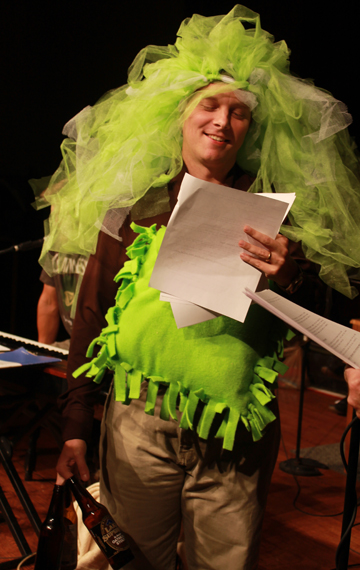 Great Northern Radio Show – Ely
October 19, 2013
Broadcast from the Vermilion Community College, Ely,MN.
Cuyuna Junction' in Crosby
We won't lie. This Oct. 13, 2013 show in Crosby, Minnesota, was one of our favorites. The people in Crosby are just so nice, and they serve tater tots with nearly everything imaginable.
Crosby is on the Cuyuna Iron Range, a mining region that stopped mining decades ago. But the culture and uniqueness of the town endure. In fact, the region is going through something of a renaissance.
The show featured the Finnish-American due AALLOTAR with Hibbing's Sara Pajunen and Helsinki's Teija Niku, a pair with haunting, beautiful lyrics in Finnish and English. We also heard from the rockin' Faith Boblett and her band, local folkster David Peterson, and young performers John Stokman and his kid sister Emily, along with Annie and Teresa Goodman on violin. Nickolai Koivunen anchored the show on house keyboards.
Our adventures took us high in the air in a reimagination of a famous 1950s experimental balloon ride in Crosby, where the Cold War was fought with helium. We had some fun in the local prop shop, where these aren't the props you're looking for. The racing turtles of Nisswa found themselves challenged by the nefarious Longville turtle racing gang, leading to slow-motion excitement for all ages. The popularity of Crosby's mountain biking trails spilled over into "bike night" at the local biker bar. Spandex, so much spandex.
The Great Northern Radio Players for this show included Britt Aamodt, C.J. Anderson, Jon Bjorkquist, Nancy Waller and Scott Hanson on foley sound effects.
Special guests included historian Pam Brunfelt, who looked back on the Milford Mine disaster and Crosby's quirk as the only American town with a Communist mayor in the early 20th Century. We also heard from local booster and bike enthusiast Aaron Hautala and Crosby-Ironton High School student leader Kryston Wisely.
All that and new audio essays about Modern Life in Northern Minnesota by producer, writer and host Aaron Brown, including the ghost of the family boat that once spent time on Crosby's Serpent Lake.
This October 19, 2013 program aired live on 91.7 FM KAXE Grand Rapids, Aitkin and the Iron Range, 90.5 KBXE Bagley and Bemidji, 89.9 Brainerd and 103.9 in Ely. The show was also rebroadcast on independent public radio stations throughout Minnesota and distributed as a live stream and podcast.
The Great Northern Radio Show is made possible by the Minnesota Arts and Cultural Heritage Fund with support from the Iron Range Resources and Rehabilitation Culture and Tourism grant program and the Blandin Foundation.