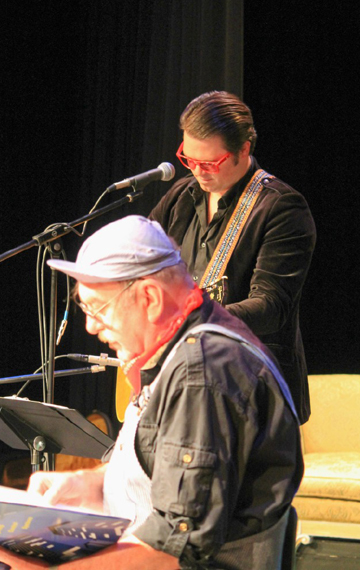 Great Northern Radio Show – Brainerd
June 16, 2012
Broadcast from the Central Lakes College in Brainerd,MN.
Brainerd: Maybe About Trains
This June 16, 2012 broadcast saw the Great Northern Radio Show take the stage of the Central Lakes College theater in Brainerd, Minnesota. 

Featured musical guests were The Bitter Spills (Rich Mattson and "Baby" Grant Johnson), Actual Wolf, Iris Kolodji, Sonny Johnson, John Pribyl and the Hollow Hearts, the Danver Patients, and the live radio debut of Katie Wig. Nickolai Koivunen sat in on house piano. 
The Great Northern Radio Players for this show included C.J. Anderson, Jon Bjorkquist, Charlie Johnson, Sue Johnson, Dan Rohr, David Vieths, & Nancy Waller with foley artist Scott Hanson. The show was written by Aaron Brown and Matt Nelson with additional material by John Ramos. 
Our adventures in this show took us on a midnight ride of the "Fate Train," a time-traveling engine that rumbled through the history of Brainerd. Meanwhile, a disembodied voice taught us how to survive the onslaught of summer bugs in Northern Minnesota.  
Special guests for the show included high school naturalists Kevin Gohman and Ben Stubbs, Central Lakes college students, musicians and LEGO animators Andy and Spencer Olson, along with "Strong Towns" founder Chuck Marohn talking about how to strengthen small towns in modern times. 
All that and new audio essays about Modern Life in Northern Minnesota by producer, writer and host Aaron Brown, including the tale of the time everyone in his rural township rushed to his house to talk about something that happened to his groin. 
This June 16, 2012 program aired live on 91.7 FM KAXE Grand Rapids, Aitkin and the Iron Range, 90.5 KBXE Bagley and Bemidji, 89.9 Brainerd and 103.9 in Ely. The show was also rebroadcast on independent public radio stations throughout Minnesota and distributed as a live stream and podcast. 
The Great Northern Radio Show is made possible by the Minnesota Arts and Cultural Heritage Fund with support from the Iron Range Resources and Rehabilitation Culture and Tourism grant program and the Blandin Foundation.