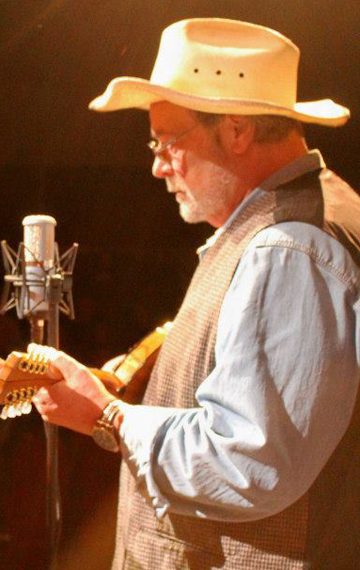 Great Northern Radio Show – Bigfork
December 15, 2012
Broadcast from the Edge Center for the Arts, Bigfork,MN.
Bigfork: Christmas on Edge
On Dec. 15, 2012, the Great Northern Radio Show traveled to the Edge of the Wilderness in Bigfork, Minnesota, for a holiday show bedazzled by a genuine blizzard, which more than 100 locals braved to attend the live broadcast. 
This was one of our most community-oriented shows we've ever done. When folks here heard we were coming, the extremely active arts community of Bigfork quickly organized several acts for us. We brought in the Sam Miltich Trio, featuring Sam, Matthew Miltich and violinist Gary Schulte. The Celebration of Grace community church band led by Karen Wetzel performed, along with Kim Harrington, Alycia Johnson, Jerry Hagen, Terry Price and the Edge of the Wilderness Quartet. Nickolai Koivunen anchored house piano. 
The Great Northern Radio Players for this episode included the late, great Marshall Oelmann, in his final radio performance, along with William Kessler, Alycia Johnson, Maddi Frick, Erika Kooda, Trevor Klatt and Scott Hanson on foley sound. The show was written by Aaron Brown and Matt Nelson. 
Our adventures in this show were triggered by a strange legal clause, read to us by a real elf, that insisted that any live Christmas special can be indentured by Santa to help deliver gifts. We found ourselves ill-equipped for this job, so we deputized local bar denizen Earl (Oelmann) and his flying donkey to do the job. The voices of KAXE and KBXE spoof some of their most popular programs, which includes the debut of Aaron Brown's centaur character. And kids home from college write letters to each other from the front.  
The show also featured guest Howard Pitzen, founder and operator of the Effie Rodeo, who told stories of the rodeo and read some of his cowboy poetry. Pitzen is another great Northern Minnesota character who has since gone on to the big ranch in the sky. 
All that and new audio essays about Modern Life in Northern Minnesota by producer, writer and host Aaron Brown, including an exploration of the classic Minnesota conversation closer, "Watch for Deer!." 
This Dec. 15, 2012 program aired live on 91.7 FM KAXE Grand Rapids, Aitkin and the Iron Range, 90.5 KBXE Bagley and Bemidji, and 89.9 Brainerd. The show was also rebroadcast on independent public radio stations throughout Minnesota and distributed as a live stream and podcast. 
The Great Northern Radio Show is made possible by the Minnesota Arts and Cultural Heritage Fund with support from the Iron Range Resources and Rehabilitation Culture and Tourism grant program and the Blandin Foundation.