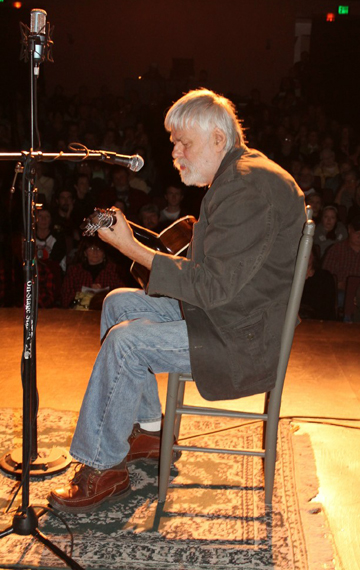 Great Northern Radio Show – Bemidji
April 7, 2012
Broadcast from the Chief Theatre, Bemidji,MN.
A New Hope in the Headwaters
On Saturday, April 7, 2012 the Great Northern Radio Show emerged from its successful pilot broadcast with its second episode from the Chief Theater in downtown Bemidji, Minnesota. The event corresponded with the launch of 90.5 KBXE in Bemidji, which expanded Northern Community Radio across north central Minnesota into parts of the state's Northwest.
The featured musical guests for the show included Two Many Banjos, starring Duluth singer/songwriter Marc Gartman and Dave Carroll from Trampled by Turtles. Late, great Bemidji area music icon Jim Miller performed a comeback song, which would end up being one of his final performances. Nate King performed an Ojibwa hand drum song. Annie Humphrey played piano and sang. We showcased an impressive lineup of young singer/songwriters, including Iris Kolodji, Analisa Huschle, Kaija Roy, and Sonny Johnson. The a cappella group the Pinetones made an appearance, while Nickolai Koivunen anchored the house piano. 
The Great Northern Radio Players for this episode included Sara Breeze, Mark Christensen, Greg Gasman and Scott Hanson on foley sound. The show was written by Aaron Brown and Matt Nelson.  
Our adventures took us to the early logging camps where KBXE got its start thanks to some help from Paul Bunyan's brother Steve. The governor sent his top fish whisperer down river to stop the sassy, talkative Asian Carp from advancing north. An overbearing cheapskate has trouble with her daughter on their discount stay at a resort in April. Meanwhile, new teachers are sorted into subject areas by a BSU guidance counselor.  
Special guests on the show included author Anton Treuer talking about his book "Everything You Wanted to Know about Indians (But Were Afraid to Ask)," poet and thinker Marsh Muirhead, resort book author Neil Johnson and the actors of the Icebox Radio Theatre troupe from International Falls.  
All that and new audio essays about Modern Life in Northern Minnesota by producer, writer and host Aaron Brown, including the story of 1912 socialist presidential candidate Eugene Debs' enormous popularity in Beltrami County.
This April 7, 2012 program aired live on 91.7 FM KAXE Grand Rapids, Aitkin and the Iron Range, 90.5 KBXE Bagley and Bemidji, and 89.9 Brainerd. The show was also rebroadcast on independent public radio stations throughout Minnesota and distributed as a live stream and podcast. 
The Great Northern Radio Show is made possible by the Minnesota Arts and Cultural Heritage Fund with support from the Iron Range Resources and Rehabilitation Culture and Tourism grant program and the Blandin Foundation.