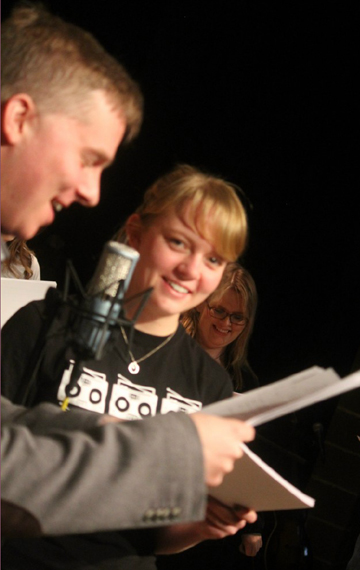 Great Northern Radio Show – Bagley
March 9, 2013
Broadcast from the Bagley High School Auditorium, Bagley, MN.
'On the Highline' in Bagley
On Saturday, March 9, 2013, the Great Northern Radio Show eased its way West on Highway 2 to Bagley, Minnesota, home of Clearwater County's only stop light.
The show featured the fantastic Minnesota folk act, The Hobo Nephews of Uncle Frank, led by brothers Teague and Ian Alexy. Duluth singer/songwriter Mary Bue performed with Kyle MacLean. Mary also sat in as our house keyboardist for this show. Northern Minnesota performers Katie Wig and Sonny Johnson brought new songs as well.
The Great Northern Radio Players for this show included Sara Breeze, Mark Christensen, Sonny Johnson, Erika Kooda and Scott Hanson on foley sound.
Our adventures included a visit from everyone's favorite truck driver and hoist operator, Derry Brod, highlighting the importance of Highway 2 to truckers. Two cool young people enjoyed a Minnesota spring break at a mom-and-pop hotel. The voices of KAXE and KBXE spoof some of their most popular programs, which includes the debut of Aaron Brown's centaur character. The Governor sent two researchers out to determine what is going on with the moose population, where they meet a matronly moose obsessed with making fun of deer.
The special guest for this show was Tamera Edevold of the Clearwater County Historical Society.
All that and new audio essays about Modern Life in Northern Minnesota by producer, writer and host Aaron Brown, including his classic take on springtime in Northern Minnesota.
This March 9, 2013 program aired live on 91.7 FM KAXE Grand Rapids, Aitkin and the Iron Range, 90.5 KBXE Bagley and Bemidji, 89.9 Brainerd and 103.9 in Ely. The show was also rebroadcast on independent public radio stations throughout Minnesota and distributed as a live stream and podcast.
The Great Northern Radio Show is made possible by the Minnesota Arts and Cultural Heritage Fund with support from the Iron Range Resources and Rehabilitation Culture and Tourism grant program and the Blandin Foundation.